In 2002 we gave a loving home to 3 rescued ponies, from an animal sanctuary near Sheffield. They learned to trust humans and bonds were forged between the animals and ourselves.
The animal sanctuary rescues a great variety of  animals. During our next visit to Sheffield we fell in love with a pygmy goat and her kids. We brought them home a couple of weeks later.  We have continued to give loving homes to unwanted animals and now have approx 100 animals.
We soon realised that these animals, once unwanted, had so much love to give, that we needed to share it with others.  Animals have a calming, therapeutic effect. In 2004 we established a small voluntary group called Nuzzlets and we welcomed our first visitors from Martin House Children's Hospice. In 2007 we become a charity and have been DEFRA accredited as a countryside classroom and a care farm.
The Shetlands were so calm with the children in wheelchairs; their heads are just the right height to rest on the children's laps. The hairs on the Shetlands chins tickled the children's hands and they responded and laughed so much. The pygmy goats nuzzled the children's hands as they were being fed, they loved been fed and going for a walk. Stroking the animals encouraged movement and relaxed muscles.
Children now come from all over Yorkshire, many from towns. They are thrilled to feed and stroke the animals.
Our visitors learn about animal welfare.  We have delivered talks to Beavers.
Everyone benefits, the animals love the attention and the children experience animal therapy.
Our animal family has grown; everything we do is totally voluntary and is for the love of animals and to help children.
Activities
Activities are tailor made to suit the needs of the children. They promote inclusion, encourage independence, build self esteem and confidence.
Therapeutic activities include:
Feed and stroke our animals.
Lead a pony.
Educational activities for visitors include:
Consider issues concerning conservation, farming, the seasons and animal welfare:
Animal welfare and care including breeding and keeping of livestock.
Agriculture, crop rotation, the seasons, horticulture (including
growing seeds and fruit picking).
Use of land, grazing, hay making, fertilisers.
Life cycles (eggs/chicks).
Nature, hibernation (hedgehogs).
Discussions about wool, shearing, goat hair.
Make a wormery or hedgehog home.
Collect minibeasts. Design classification keys and food chains. Look at habitats.
Plant seeds and take cuttings. Look at the variety of life including: plants, seeds, flowers, trees and birds.
You can see photos of some of our animals on the gallery page, horses, ponies, goats, ducks, hens, cats, rabbits, guinea pigs, sheep and hedgehogs.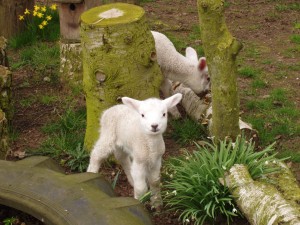 Our DEFRA accreditation  is a clear sign to all that we have very high standard of health and safety. ITV News visited the farm to report on our accreditation.
 Our volunteers are learning to sign and we are starting to combine animal and music therapy.
We have ample car parking and a disabled toilet and hand washing facilities.
 All our volunteers love animals and want to help children. We are privileged, we see the children's faces light up. We have been described by the families as:
"A magical haven for children, a place where the children can be themselves and have new experiences."
"The most wonderful place on Earth, the best day of her life."
Visits are strictly by appointment only.