We have 9 new guinea pigs, 3 polish frizzles and 1 new hedgehog.
Share on Facebook
Some new animals
Bernard – approx 4 weeks old. Too young to be released and underweight.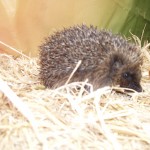 Alvin – 2 years, Anglo Nubian goat. He is very friendly.
Toffee & Cookie – both 16 weeks old.
Mrs B & Mrs C – 2 hens.
Another lop rabbit on the way.
Share on Facebook
We took in a unwanted kitten several weeks ago, here he is hiding and pouncing on a feather.
Very cute and appealling….. he now has a loving home with us for his life.
Please see attached video, it is only short.
Share on Facebook
 Ryedale Special Families arrived at the farm today, 22nd August 2012 for a 3 hour visit.
 Sophie and Leanne from Joules came to help us today and joined in with the visit. Joules have kindly sponsored us for a number of years now.
Please see attached photos.
Share on Facebook
Kiwi support Nuzzlets and visited the animals last week.
"What a fantastic place you have, did not expect it to be so big. It is paradise. All of your animals look so happy and well looked after.
We had a fantastic time, Thank-you so much. It is the best day I have enjoyed in a long time."
Share on Facebook
We found a very tired little baby owl on the road.
The vet said to keep it over night in a dark place and release the owl where we found it the following morning.
Next morning we released the owl and flew away into a corn field.
Share on Facebook
We have rescued a baby hedgehog that we found on a road, he was very hungry. We will keep him until he weighs 600g and then he will be released in a safe place.
Share on Facebook
We are so proud of 2 of our volunteers who carried the Olympic Torch on 19th June in Knaresborough. Caroline Houseman passed the torch to Jim Moulton. Congratulations to both of them.
Share on Facebook